Sandwich Panel Roof, 
Today, different technical and industrial materials are used in the roof coatings of buildings. This coating technique is one of the most commonly used models in the roof coating of structures due to its durability, insulation yields and metal roof coatings. The first conceivable product is the panel roof coating system when it comes to metal plating in the construction and insulation industry. The panel is used as a metal sheet in the production of two basic industrial materials such as aluminum and galvanized sheet.  Insulating materials injected as fillers between metal sheets are high insulation materials such as polystyrene, polyurethane, tachy, and Camy.

Sandwich Panel Technology and history
The history of use of sandwich panels extends to the aircraft hangars in WWII. In the 1960s, the production of materials, which began to spread throughout the world, evolved in parallel with technological development and today became the most widely used modern and industrial façade and roofing system in the world and Turkey. Nowadays sandwich panels; A modern and advanced technology façade and roofing material manufactured with computers, automatic saws, strip cutting machines, special paint and painting technologies, galvanizing, baking processes, high pressure injection molding machines.

Sandwich Panel Roof Efficiency
Sandwich panels are roof, lightweight and durable, easy to install product. It protects the structure against external, climatic and geographical factors such as rain, snow, wind, storm, and provides the highest level of heat, sound and waterproofing. It is the galvanising technique used in the production, ensuring that it is resistant to corrosion. Hot dip surfaces with zinc coated (galvanized) flat steel, a tremendous resistance to corrosion gains. In addition, special dyes such as polyester, polyurethane, plastiol and a special dyeing technique such as coil coating are used in the dyeing of metal sheets forming sandwich panels. Thanks to this technique, a homogeneous paint layer is obtained on the metal surface. The life of the sheets of sandwich panels painted in this way is up to 50 years under normal conditions and regular maintenance.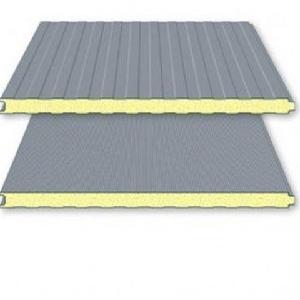 Sandwich Panel roof which structures are used?
The panel roof is widely used in the roof coverings of industrial buildings such as factories, warehouses, utilities, shopping malls, gyms, and effective, efficient results are taken in isolation.