Sandwich Panel measurements, façade and roof insulation applications of structures, project based. In these projects, factors such as the size of the structure, environment/climatic conditions, usage, desired insulation values and the preferences of the building owner are calculated and the measurement and quality of the material used in the insulation is determined accordingly. There are some criteria for product production that vary according to the project and the standards of the manufacturer. Values such as the width, height and thickness of the material, the number of hadiths, the height of the panel and the widths of the hadve, are among these criteria. The ideal width standard in the sandwich panel is 1000 mm; This measure may sometimes change to 900 mm. The length of the panel is up to 18-20 meters according to the project. As the thickness of the panel increases heat insulation value, this thickness is determined according to the conditions of the project. The height of the hadve can vary between 35-40 mm and 70-80 mm in average.
What are sandwich Panel sizes?
It is an industrial coating material used in façade and roof insulation of structures. It is usually produced by injection of various insulation materials used as fillers between two metal sheets such as aluminum and sheet metals. The insulation core of the sandwich panel consists of high substances such as mineral wool and EPS insulation value.
How is the sandwich Panel produced?
Panel Dimensions is an industrial product manufactured with advanced technology in modern production facilities. The rolled metals are primed, dyed and baked with a variety of chemical processes before (aluminum or galvanized sheet). After that, the metals that are rolled back, the panel lines, the roll-former machines with the shape of the project is gained by. High pressure foam machines are used in the filling phase. These machines are injected with materials such as polyurethane, camy and stone, between the lower and upper metal plates, and this material is revealed.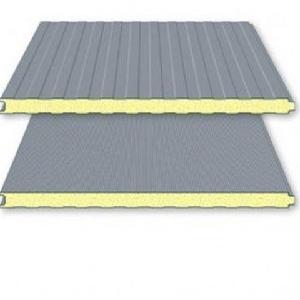 Use of Sandwich panels
Sandwich panel is one of the most used and preferred roofing and façade coating materials in the construction and insulation industry today; Use is increasingly widespread. In heat, sound and waterproofing, it is a modern composite substance, which is the main reason why the sandwich panels that are extremely effective in fire safety are so widespread.