The roof Panel is the protection systems used in buildings to provide an aesthetic harmony with roofs, geographical situation and building architecture and to provide effective protection against varying atmospheric phenomena such as snow, rain, and storms. Depending on bearing systems, inclinings and coating materials.
The roof systems, which have been continuously altered from the culture, requirements and aesthetic aspects since the dates where people are intended to meet the need for shelter in fertile lands by living in the built-up life, today's construction technology provides It has become a façade that takes advantage of the yields. Roof systems, manufactured with materials that offer economical, durable, aesthetic, sustainable and environmentally friendly solutions, as well as the need for ceiling coating or protection against natural phenomena, are built in all buildings nowadays. and are often preferred.
Roof Panel Coatings and features
The new generation of roof systems for effective solutions are used in various materials according to the aesthetic appearance and strength characteristics. They have a wide range of materials such as galvanized panel, sheet metal, steel panel, corrugated sheet, Izocam, tile panel, metal tile and PVC coating. These roof panels create a complete system with reinforced components and materials. All kinds of steel, wood, reinforced concrete and prefabricated structures can be easily assembled. No mold required and the use of concrete is only necessary for panel connections and surrounding beams. Due to its high thermal insulation, thermal insulation of roofs is also provided.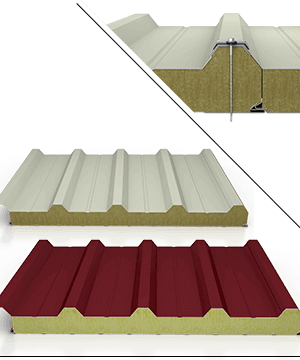 New Generation Roof Systems: Sandwich Panel
The most preferred coating product in roof systems is material consisting of internal and external metal sheet and insulation center. In our country, the interior and exterior façade, construction site buildings, social and industrial buildings, factories and warehouse areas, such as coating material in many construction systems are often preferred in recent periods. Architectural preferences, carrying capacity, lightweight construction, as well as the advantage of fast manufacturing and installation offers.
Where are the roof panels applied?
Although the roof panel systems are lightweight, it provides advanced resistance, strength and protection in buildings that are applied because they are manufactured with durable materials and up-to-date engineering methods. These systems, which were first used in the northern countries, have gained a wide range of applications in our country and have become preferred in all buildings from residences to sports facilities, commercial buildings to institutions. With its long lasting use and aesthetic value, the roof panels continue to be presented with stunning solutions.