Bardoline Geleneksel Shingle
60.00

₺

/ kdv dahil

/paket
Yalteks Kirmizi Shingle
42.00

₺

/ kdv dahil
Yalteks Shingle Yuvarlak Yeşil
42.00

₺

/ kdv dahil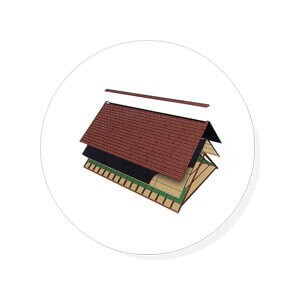 What is Yalteks shingle? 
The 110 gr/m² is a bitumen roof covering with Fibercam carrier and modified APP. In different colors and images, suitable for Modern and classical architectural designs, it is easy and fast to apply to all kinds of decorative, lightweight surfaces and is resistant to poor weather conditions.
The visible upper surface is laminated with coloured mineral granules, and the sandy surface located in the lower parts prevents the leaves sticking to each other in the packaging package. There are four different models, 3 different colors (red, green, gray) alternatives, including rectangular, diamond, honeycomb and round slices. Depending on the optional and the metric, other colors can be produced.
Shingle Technical Specifications 
Tensile strength (en-length): TS en 12311-1/N/5 cm/³ 400/600
Shear strength (en-length): TS En 12310-1/N/³ 100/100
Yield resistance: TS EN 1110/³ 120 °c
Bitumen Weight: gr/m²/³ 1300
Granule loss: EN 12039/GR/£2.5
Carrier: TS EN 544/gr/m²/110
Package Weight: kg/³ 23/20 *
Number of sheets in package: 20 sheets
Area covered by a package: 2.61 m2
Dimensions: Length: 100 cm 
EN: 34/33,5 *
Facade Coating Systems 
With the development of technology, many services are offered to the benefits of people. New features are applied to the buildings with the formation of many service sectors nowadays. With these features, people have a happier and more peaceful time in their homes. Exterior coating systems are applied according to the structure of each newly constructed building. The person who built the building is choosing one of these systems to ensure that the building is made. Because of the four seasons in our country, it is necessary to take a number of measures outside and within the buildings.
There is no heat problem in the houses with façade coating.
The walls of buildings that are not coated are damaged by the people's health as they wear faster.
Because it is very suitable for winter season, it is necessary to be aware of how much insulation is required.
It is especially prevented from experiencing boredom such as moisture.
Exterior coating systems provide protection against possible negativity by giving peace to every area where people are constantly living and spending time. If people care about façade coating, it always gives you an advantage. Therefore, the walls of the building should be taken on time to take the necessary precautions.
Comfortable living with façade coating
In rainy weather, the exterior facades of buildings are too wet, as it does not hurt at first, but in time quickly the wall is becoming more and more vulnerable, damaging both you and your budget. By choosing one of the types of exterior coating systems, you will be doing the best for yourself. Façade coating and Montalama cover both interior and exterior fronts. So it is ensured that people live in comfort by applying coating systems as desired. People are better aware of living in a space that we have always had time to be comfortable with.